POWER • HONOR • DISCIPLINE
Pre-School Children (Minions)
Our martial arts program for kids is second to none. Top Martial Arts school for a decade in the Redding A-List by parents just like you. We teach kids practical effective self-defense skills along with character development and child safety. Our program increases their physical and mental skills making them more confident and safer and less likely to become targets of bullying or other predators.
Bully Prevention

NO SPORT FIGHTING

Birthday Parties

Camps
Middle School -> 17 Years Old (Juniors)
We specialize in addressing challenges teens face and the importance of setting goals. Students learn to focus and persevere which leads to confidence and success in school, at home, in other sports, and in life. Our students learn how to handle bullying and stop it quickly. Our program provides cross training benefits to students playing sports by training both sides of the body preventing injuries and increasing core strength.
Bully Prevention

Personal Safety Program

NO SPORT FIGHTING

Teachers in Training Program

Teen Kung Fu San Soo
Our Adult programs Kung Fu San Soo, San Soo FIT, a body transformation program focusing on fitness, nutrition & support. Our certified instructors incorporate leading martial arts style in the areas of self-defense, fitness, and weaponry. We're open 6 hours a week allowing you to train according to your schedule.
Martial Arts

Combat Self Defense

NO SPORT FIGHTING

Life Skills

San Soo FIT
TRADITIONAL CLASSES
ALL AGES GROUPS
PRIVATE TRAINING
BUSINESSES
LIFE COACHING
PROFESSIONALS
BULLY DEFENSE
CHILDREN OF ALL AGES
KUNG FU SAN SOO
CERTIFICATION PROGRAM
WEAPON RETENTION
LAW ENFORCEMENT
About Master Matthews
"My sole job is making sure my clients achieve what they are seeking from Martial Arts, whether it's fitness, character, discipline, personal, physical, mental, spiritual.... "The first step to great self defense comes from the inside out... think, act, and conduct yourself as the person you wish to become; this habit will become your reality."
Kung Fu San Soo
Why learn KUNG FU SAN SOO over any other Martial Art? KUNG FU SAN SOO is not a fad or sport. It has been the Mother Art of Martial Arts for thousands of years using not just punches and kicks or leverages and throws, but all parts of the body and the mind. All this is done in perfect rhythm and directed to effective targets of the body. These techniques can be changed instantly, depending on your situation. KUNG FU SAN SOO gives you extreme power, agility, balance, coordination, and long term wellness both mentally and physically.
Whether you are looking for a new fitness challenge or the ultimate in Martial Arts style such as Karate, Brazilian Jiu-Jitsu, Kenpo, Judo, Aikido, Taekwondo, or other great systems, PHD Martial Arts and Kung Fu San Soo is worth checking into as it encompasses all of the above and so much more!
Our School/Dojo
2645 Park Marina Dr. Redding, CA 96001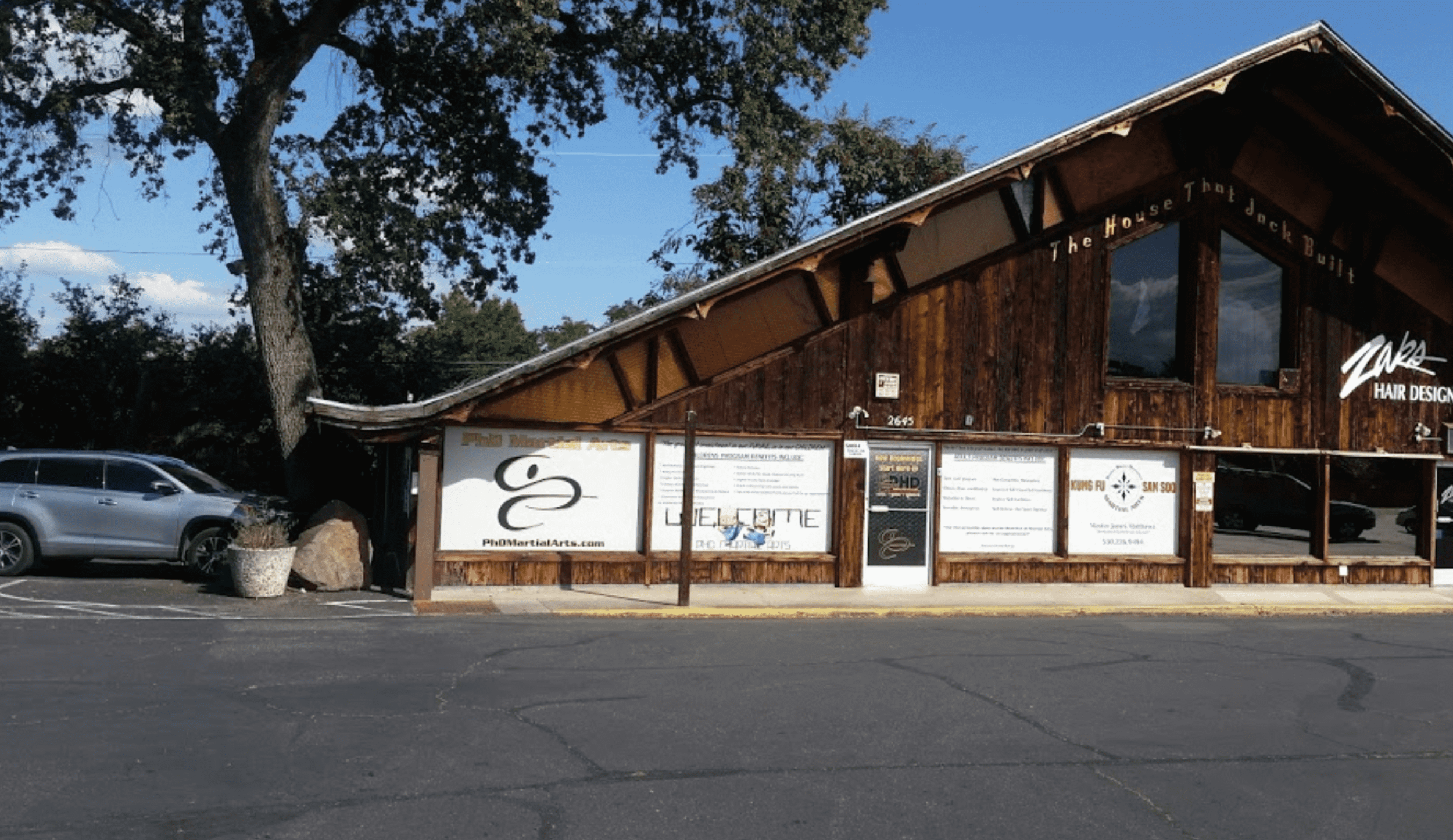 Testimonials
Here what our current & past students have to say!